Are you passionate about figure skating?
Welcome to Ballet Secrets for Skaters! Allow us to share our passion for artistic excellence with you.
Do you want results?
Today's skaters have demanding schedules. We offer ideas and information to help you improve your artistry and presentation on the ice.
Where do you start?
If you're interested in seminars, workshops, master classes, or personal appearances, please check the Calendar for a schedule of events. For some useful articles and links, click on Resources. To learn more about the Ballet Secrets for Skaters book, read on.
A new book just for you!
Ballet Secrets for Skaters: How to Hone Your Artistic Competitive Edge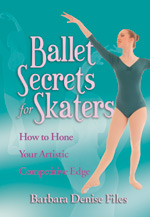 Do you command an audience's attention using graceful arm and head positions? Learn how…in the first ballet book designed for figure skaters!
Ballet Secrets for Skaters unlocks the secrets of ballet technique in a fun and friendly style. Discover many tools and tips for proper placement of the upper body…the first place an audience looks.
Here you'll find:

· Photos of real figure skaters show common pitfalls and how to avoid them.
· Ballet Secrets and Quick Checks help you remember these points on the ice.
· Emphasis on making a winning impression—even when you stand still.
Bonus!
Olympic Gold Medallist Viktor Petrenko and World Ladies Champion Yuka Sato—famous for their artistic expression—offer advice and inspiration for today's skaters. Award winning Broadway jazz choreographer Patti Wilcox describes the creative process of designing a unique program for Viktor Petrenko.
Who benefits from this book?
Illustrated with more than 70 professional black and white photos, Ballet Secrets for Skaters is an essential guide for skaters, coaches, dance teachers and skating enthusiasts of all ages and abilities.
Click here to read more.
Want more?
We're still building this web site…adding more articles, reference information, and a newsletter…just for you. Please tell us what you'd like to see in the future. E-mail your comments, questions and news of your artistic triumphs on the ice to info@balletsecretsforskaters.com.